Protei
Protei is a fleet of pollution-collecting sailing drones, focused primarily on the collection of oil spills. This open source project was designed by artist Cesar Harada and an international team of contributors through open sourcing networks.
About Protei
Protei is a fleet of pollution-collecting sailing drones, developed primarily to collect oil spills. Natural forces to remedy man made problems.Cesar Harada began his interest in oil spill containment in the gulf of Mexico with some local fisherman who working on fishing boats to clean the ocean spills. However, these means of oil spill collection only collects 3 percent of the spilled material.Through open hardware licensing, Harada began his work to develop a more efficient method of cleaning oil spills. His open source project, Protei, is now an international network of innovation for sailing technology using this concept of a shapeshifting hull. Its parent project, Open_Sailing, is an international organization attempting to design and build a bio-architectural "international Ocean Station" and emphasizes the involvement of multitudes of people to achieve things that may cost taxpayers millions of dollars to produce if done so through semi-secret information for closed groups of scientists.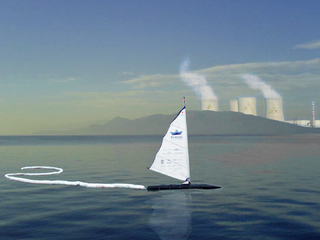 No comments yet. Why not add the first?
Acknowledgements & Credits
Cesar Harada
Protei
2010- Ongoing
Adapted from the 'NEW ART/SCIENCE AFFINITIES'. Published by the Miller Gallery at Carnegie Mellon University and the STUDIO for Creative Inquiry and available at http://millergallery.cfa.cmu.edu/nasabook/
You need to be logged in to report.
×