Enormous Microscopic Evening
Enormous Microscopic Evening examines the museum from a microscopic perspective with CRITTER, a San Francisco-based salon dedicated to expanding the relationships between culture and the environment. Materials and samples taken from around the museum are taken to be examined.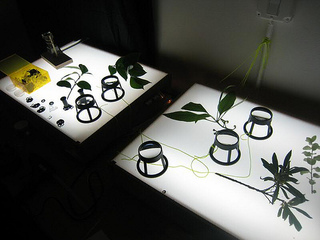 Critter Salon with Machine Project
"Enormous Microscopic Evening" was a traveling event held at the San Francisco Exploratorium and the hammer Museum in Los ANgeles in 2009 and 2010, respectively. Organized by CRITTER Salon (with Machine Project), a San Francisco-based artist group dedicated to expanding the relationships between culture and the environment, the evening was all about microscopes: building them, manipulating them, and peering into the unseen recesses of the world through them. CRITTER called the event a "microscope jam session."
THe microscopes involved in the event ranged from homemade devices and simple water lenses to state-of-the-art microscopes that truly allowed participants to see the invisible. Organisms, live cells, insects, plant matter, objects brought from home- very little was safe from magnification. With the assistance of various scientific and natural history organizations, the CRITTER Salon held workshops in DIY microscope construction and demonstrated how a new age of "social microscopy" is transforming the sciences.
The focus (so to speak) on microscopes presents them as a metaphor for what a scientific or technological approach can bring to the practice of art: if an artist's job is to look at things in an unexpected way, how better to sharpen and intensify that gaze than to use a microscope? To see the unseen, to reveal hidden truths about the world- this is the work of both scientist and artist.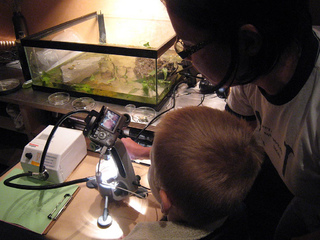 No comments yet. Why not add the first?
Acknowledgements & Credits
Critter
Enormous Microscopic Evening
2010
Adapted from the 'NEW ART/SCIENCE AFFINITIES'. Published by the Miller Gallery at Carnegie Mellon University and the STUDIO for Creative Inquiry and available at http://millergallery.cfa.cmu.edu/nasabook/
You need to be logged in to report.
×